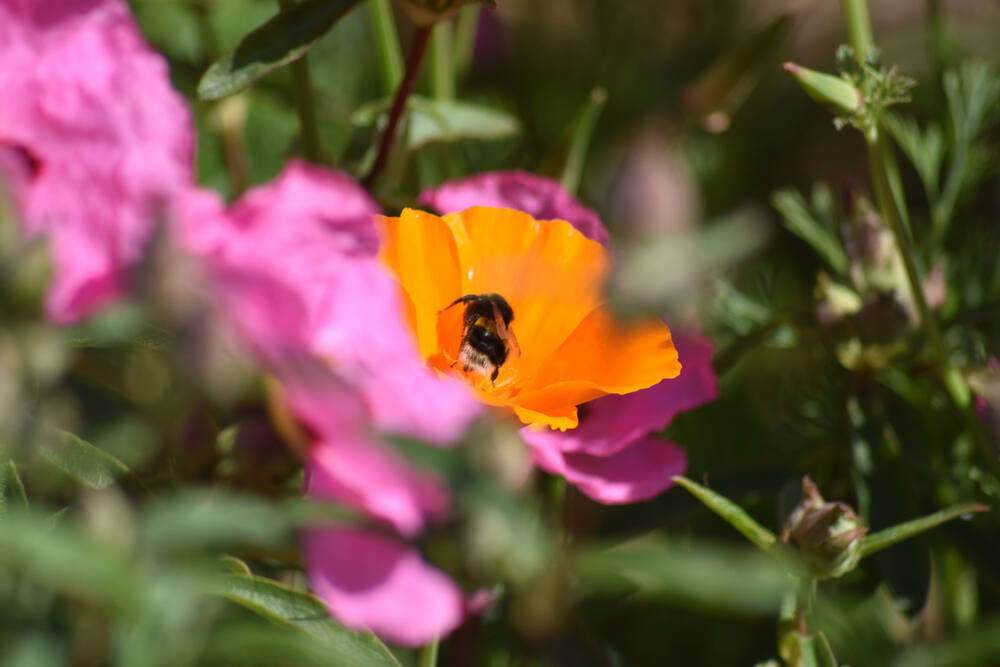 Question: I would like to be more proactive in protecting our wildlife and the environment in my garden. What advice do you have that could help?
Answer: Your question is music to our ears. Wildlife protection and environmental conservation are subjects everyone should care about. So why not create your own mini national park in your yard?
Locally and nationally, there are organized efforts to educate people on how to help the environment in home gardens. Whether you want to attract butterflies, bees or other wildlife or incorporate native plants, there are organizations and movements to guide you. Many invite the public to add their gardens to national maps that connect participants and show how the movement to build these gardens has progressed. You can find contact information for several of these organizations at the end of this article.
To begin, start small — with insects. Doug Tallamy, professor of entomology and wildlife ecology at the University of Delaware, writes in his book "Nature's Best Hope" that, "Insects are the basis of food webs and transfer energy to all living animals. Insects pollinate 80 to 90% of our plants. Plants make oxygen; they regulate our watersheds; they preserve our topsoil. If you take away plants, you take away the ecosystem services that humans depend on."
Tallamy feels confident we can begin to turn things around with a concerted effort. He's laid out a clear plan that has evolved into a movement called Homegrown National Park.
The idea is that individual yards can fill gaps to support insects national parks cannot. Our national parks protect native fauna and flora but only encompass a small area compared to the total acreage of the U.S. If the areas between the national parks — valuable ecosystems for local wildlife and migratory animals such as the monarch butterfly — were replaced with private homes and community spaces, U.S. citizens could restore these ecosystems by planting habitat plants, essentially creating their own Homegrown National Park. Tallamy recommends these steps:
Eliminate or reduce the size of your lawn, then get on the Homegrown National Park map at homegrownnationalpark.org.
Address invasive plant species like bindweed, grasses, and ivy by removing or making sure they don't go to seed.
Learn about local "keystone plants" (native plants that produce the most fuel for insects like caterpillars, who feed birds and other mammals). In Sonoma County, this could include oaks, buckwheat, Ceanothus, and Manzanita.
Plant your keystone and native plants with abundance and diversity in mind, no matter how large or small your areas are.  (Find lists of native keystone plants, including those that do well in containers, at homegrownnationalpark.org.)
At night, turn off the porch and security lights, which disrupt the natural nocturnal cycles of insects. Instead, use motion-sensor lights and substitute yellow LED bulbs for white bulbs.
Network with neighbors to join the effort. Homegrown National Park aims to convert 20 million acres of private land into productive ecosystems.
We, as stewards of our own spaces, can effect change for our wildlife, ourselves, and our environment, one garden at a time.
Contributors to this week's column were Diane Judd, Joy Lanzendorfer, and Sue Lovelace. The UC Master Gardener Program of Sonoma County, sonomamg.ucanr.edu, provides environmentally sustainable, science-based horticultural information to Sonoma County home gardeners. Send your gardening questions to [email protected]. You will receive answers to your questions in this newspaper or our Information Desk. You can contact the Information Desk directly at 707-565-2608 or [email protected].
Janice is a full-time mom who likes to write on a range of topics in her spare time. She specializes in the Home, Garden, and Recycling topics. Janice is our Lifestyle and positive vibe expert. She keeps the office running.